As part of the Apocolist, I'm trying to read at least 20 books this year. Bear and I walked up to the library and I finally got myself one of them cards that gets you free books. I know, terrible. Should have had one long ago. NO JUDGING.
The first book was Jurassic Park and was obviously awesome. I hope to write a little bit about each of the books I get through.
At the moment I'm basically getting all of my current book suggestions from The Morning News' list of books that have made it into the shortlist of nominees for their
2012 Tournament of Books
. This means all of the books on my to-read list were published in 2011. Send me suggestions for other things! Because I will be devouring these. I have been too long off the reading wagon.
#2.
The Sisters Brothers - Patrick deWitt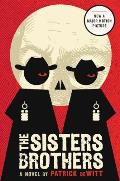 Some review I read said this would be funny so I jumped at it. The last few book clubs I've been in have drowned me in sad stories of love and loss, oppression and fear. Which, you know, fine. I can appreciate some sad-sack! I love bleak stuff. 90% of the time I'll choose a vacation in the Scottish moors over a beach in Cabo. That being said, do you know how grey New England is in the winter? I could use a little light-hearted literature.
The story is of two brothers, Eli and Charlie Sisters, who are killers for hire in the mid 1800s. It takes place in the Old West but I appreciated that deWitt doesn't beat you over the head with it. I once read a book that toook place in Massachusetts where every other line was something like, "She dug her hands into the rocky soil, a soil typical of New England" or "The sun was the yellow of a Gloucester fisherman's hat." Ugh, I get it. No, this was much more subtle. The tone of the narrator and the settings through which the story passes do not seem overly constructed. There is room left for the story to unfold without a rootin' tootin' hootin' hollerin' spurred and chapped cowboy in a saloon every few paragraphs.
The brothers are hunting a prospector and must travel a long way to reach him which helps the story move along nicely. As they move from town to camp to town, Eli (the narrator) starts to question what he does and who he does it for, as well as examine the relationship this lifestyle has created between himself and his brother.
There are moments of violence, as there should be in any honest tale of the expanding nation, and they can get graphic. The tone of violence, however, is well tempered by the tone of the narrator and the general humor of the brothers. I laughed out loud at many of the lines. I am a lady who appreciates sarcasm and this novel is rife with it. The brothers are witty and poetic in their humor. They are also irreverent and self deprecating which are qualities that are hard to portray without feeling heavy handed. Though they are killers, I found myself feeling sympathy for them. Eli and Charlie are very human, flawed and strange, which helps get you through the parts where they're shooting everyone around them.
I got through this book in a day. It's not particularly heavy reading, but there are moments that make you pause and ponder the possible symbolism - a weeping man, a sash from a woman worn as a favor under the brother's coat, a dying horse - like quick flashes of light that leave a ghost image on your retina, the brilliance stay with you for a moment before you move on to the next gripping part of the story.
I enjoyed it, is what I'm saying. Four out of five stars!